This is Poppy's Story
In November 2013, we were contacted by a distressed lady who had a tortoise uncaringly and cruelly discarded in her garden
"Hello there, I'm hoping you can help. I have had a tortoise dumped in my front garden in a box! It is not a normal looking tortoise! It has terrible shell growth and huge claws. It looks like it hasn't had uv light or calcium, ever! Its shell is distorted and very pale between the growth plates".
"I have no way of giving this tortoise a home. He was very cold when I took him out of the box but I have warmed him up under a desk lamp and have fed him with dandelions, dead nettles, plantain and cucumber. He's eating very well. Please let me know if you can help or if you can point me in the right direction to someone who can".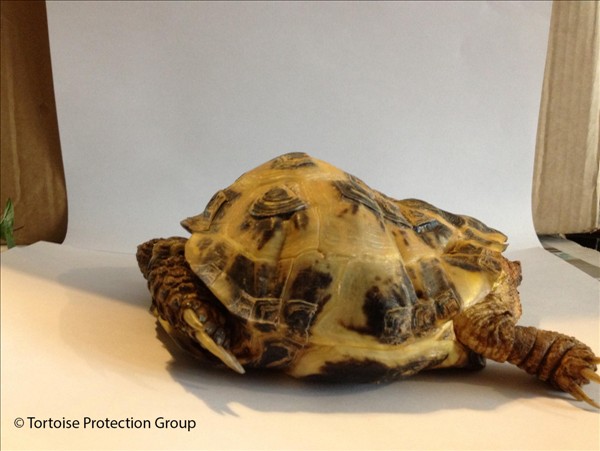 It transpired that the tortoise was left in a box on her doorstep next to the lady's rubbish bins and she could easily have been collected with the rubbish. Needless to say, we were all extremely shocked at the condition of this poor tortoise and the uncaring manner in which she was discarded.
We managed to contact a lady who had previously rehomed a deformed Horsfield (Pancake) through the Tortoise Protection Group.


"The Tortoise Protection Group contacted me regarding a female Horsfield tortoise which was in need of a home. The poor tortoise had not had a good start to her life and she is now rather deformed. How could I say no, as we already have another tortoise (named Pancake) who also did not have a good start. We collected her from Milton Keynes from a lady who found her in a box on her door step, we called her Poppy as it was remembrance Sunday when we collected her. Poppy's Shell is deformed but she is able to get around very well, she is a friendly tortoise and lets you stroke her head. When we got her home I trimmed her claws because they were very long so we think it's possible she had not been in a garden. Poppy is eating and drinking very well and we cannot wait to get her in the garden when the weather gets warmer where she can roam and bask in the sunshine. We do not know what conditions she was living in before but we are going to do our best for her now. Here are two Photos so you can see Poppy. We will keep you updated on her progress".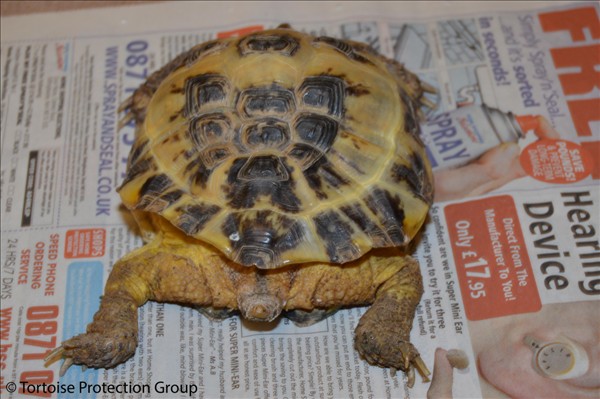 Thank You Shirley & Rob for providing Poppy with a wonderful new home. Shirley has told us she is looking forward to the summer, when Poppy can venture into the garden, possibly the first time she has ever done so.
We are very proud to have been part of finding Poppy a wonderful new home and will post photos of her in her new outdoor environment come the summer.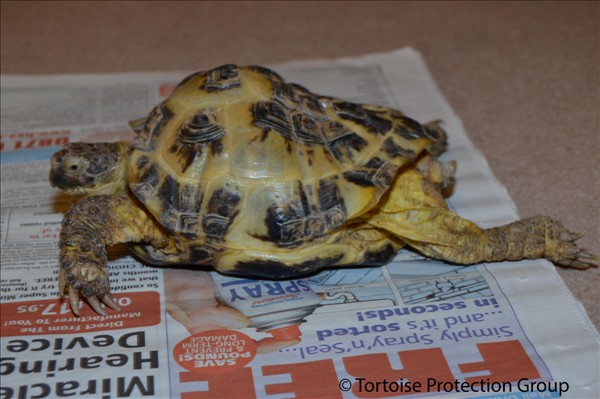 Poppy Update April 2014
We have had an update on Poppy, who is continuing to do well in her new home. "as you can see she is eating well and has made friends. Poppy is happy just to roam in the garden and she has her own little spots where she loves to sleep."