Making Your Own Incubator
Many incubators available on the high street are quite expensive. A simple, effective, and cheaper alternative is to make your own incubator, and for this you will need the following:
Polystyrene box with lid (the type in which tropical fish are transported to aquatic centres and pet shops are good)
Thermostat with probe
Min/Max thermometer with probe
Hygrometer (to measure humidity)
Heat mat (to fit the size of the interior of the box)
Metal grill or cake rack (cut to size)
Two house bricks (these help to stabilize the temps within the incubator)
Two plastic ice cream containers or similar
Vermiculite
Place the heat mat in the bottom of the polystyrene box.
Run the electric cable from the heat mat up the side of the box. You might need to cut out a small section at the top, just enough for the cable to sit in to ensure the lid fits snugly on top. Alternatively, remove the plug from the cable and insert a small hole in the bottom corner of the box, thread the cable through and re-attach the plug.
Once the heat mat is in place, lay the bricks on their side at each end of the mat, and then place the grill/rack on top of the bricks.
Fill one of the plastic ice cream containers half-way up with vermiculite. This will be where the eggs are placed.
The other container should be part-filled with water, to provide a humidity reading on the hygrometer of around 70%.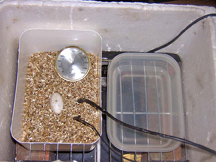 The hygrometer may be placed either in the container with the eggs or on the rack.
Make sure you read the instructions on the hygrometer carefully, as it may need to be calibrated before you use it, but this procedure is easy to follow.
PLEASE NOTE: too much water in the container can cause condensation within the incubator, and this is not desirable.
The thermostat/thermometer units are placed outside the incubator.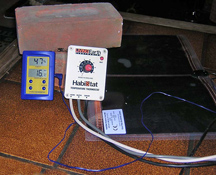 When everything is set up inside the incubator, you need to make small air holes in the polystyrene lid. First make a hole in the middle: this is for the thermometer and thermostat probes to be threaded through. These probes can be placed directly on to the vermiculite, making sure they do not touch the eggs. By placing them on the vermiculite it will give you a more accurate reading of the incubation temperature of the eggs.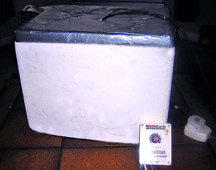 Eggs incubated at between 29.5°C–32°C (85°F–90°F) will usually hatch if fertile, but the best temperature for most species is between 30°C–31.5°C (86°F–88.7°F).
-------------------------------------------------------------------------------
When you have completed the construction described above, your home-made incubator is ready to use.
Many of our members have constructed their own incubators with successful results.
All Rights Reserved
Copyright © 2009 Tortoise Protection Group