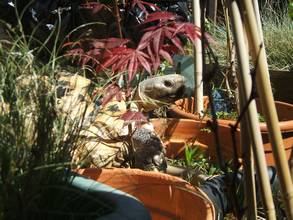 Welcome to the Tortoise Protection Group Website
The Tortoise Protection Group is a non-profit organisation founded in 2007.
Our site is dedicated to helping ensure the survival of tortoises in the wild by encouraging current and new tortoise keepers not purchase imported tortoises from the commercial pet trade, but to seek out UK captive bred tortoises instead. We aim to promote high standards of husbandry to tortoise keepers in the UK; both through our website and our forum.
With your help we can make a difference
graphic slide show
- not for the faint hearted.
The Tortoise Protection Group were invited to the Terraristica Reptile Fair held in Hamm, Germany to act as consultants and also assist in the making of a film about the fair. Many of the traders who offered animals for sale at the fair also export tortoises to the UK. The film gives a clear insight as to the appalling conditions the animals were kept in the and shocking manner in which the animals are displayed for sale.
To view the film, please click the below links:-
A Far Cry From Nature (Part One)

A Far Cry From Nature (Part Two)
We are a group of volunteers striving to campaign against the importation of tortoises into the UK for the commercial pet trade. Please help and be assured that any donation gift, no matter how small, will be well spent working towards making a lasting difference for tortoises. We rely on your generosity to help our cause.
If you wish to donate by using PayPal please click on the Donate button on the right hand side of this page, or alternatively you can send your donation by cheque made payable to the Tortoise Protection Group and send it to our contact address:
The Tortoise Protection Group
PO Box 441
Dover
CT16 9ER
Many thanks for your suppport.
---
Latest News
---
---
TORTOISES STOLEN - BRIDGWATER AREA
A devastated couple have had twelve tortoises stolen:-
The missing tortoises are as follows:

2 x young adult ibera males
2 x young adult marginated males
2 x adult female iberas
1 x small ibera male
3 x leopards
1 x elderly hermanns female
1 x small hermanns male
If anyone hears of any suspicious tortoises being offered for sale or appearing in neighbour's gardens etc please contact John Hayward (details below).
Tel 01869 325699 / 07802 404929
E-Mail jh@ntr.supanet.com
Many Thanks
The Tortoise Protection Group
_____________________________________________________________
TPG Online Petition
We would like to thank everyone who has taken the time to sign our online petition and we do hope to be in a position to present both the online and the paper petitions in the near future.
We currently have over 15000 signatures in total but we would appreciate more. If members would kindly consider either signing our online petition, which fortunately we have been able to continue, by clicking here or continuing to collect signatures from work colleagues, friends etc on our paper petition, which can be downloaded here, we should be grateful:-
In the meantime we are waiting to hear back from an MP who is working on our behalf with regards to obtaining answers from Animal Health/DEFRA regarding important issues on importation raised by us.
April 2009
---
Veterinary Adviser
The TPG are pleased to announce the appointment of Kevin Eatwell Veterinary Adviser to the Tortoise Protection Group.
29 March 2009
---
Information Required
Would anyone who has purchased a tortoise over the internet please contact us giving details of the transaction, in particular how the tortoise was delivered, packaged etc.
We are also seeking information on any sick tortoises purchased.
---
Latest Item 12 August 2008 - Weed Poem by Sharon B
---